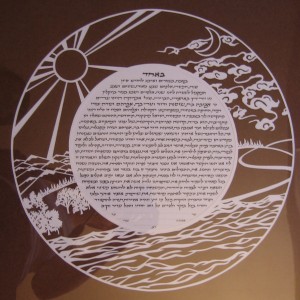 My sweetie and I designed our ketubah together. I have now finished cutting the papercut and our professional calligrapher (on my list of things to become) finished the text. My sweetie will be painting a colorful watercolor background.
As you can see here, the text is on a different piece of paper from the papercut – when we get it framed, we'll have to be sure to rotate them correctly. The painted round background will be a third piece of paper, and then there'll be a matte as the background to fill in the rest of the square.
Will post a photo of the finished piece when it's done!