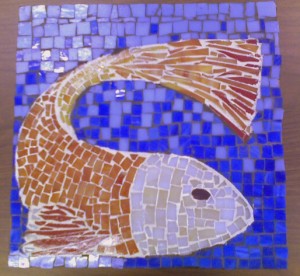 Yesterday, in the second of two classes, I learned how to add grout to my mosaic. Never being one to do things simple, I decided that the fish and the background needed two different colors of grout. It was a bit frustrating to get all of the grout to behave (and involved miles of masking tape) but I admit to being pleased with the result.
The fish is being held hostage by the JCC for the time being, since they plan to display all 10 mosaics produced in the class. When it's returned to me, I'll take a proper non-cellphone photo.
Yesterday I attended the first of two classes at the JCC taught by Connie, a mosaics artist. There was actually very little "class" to the class – she spent less than ten minutes showing us the four or five tools (glass cutters and nippers) and then set us to work drawing our designs on pieces of wood, cutting glass and glueing it. We had just under four hours to complete our cutting and glueing because next week, class 2 of 2, we will have to grout, and the glue has to be dry for that. I stayed a little late finishing my piece ("you're a fish!"), but I'm quite pleased with out it came out. Connie didn't bring as many different colors as I wanted, but I was able to get quite a range out of one piece of marbled orangey-yellow glass.